Create a Positive Impact This Summer
Keep Your Child Entertained With A Social, Personal Development Experience While You Enjoy A Relaxing Summer!
Summer Camp
June 19 - 23, 2023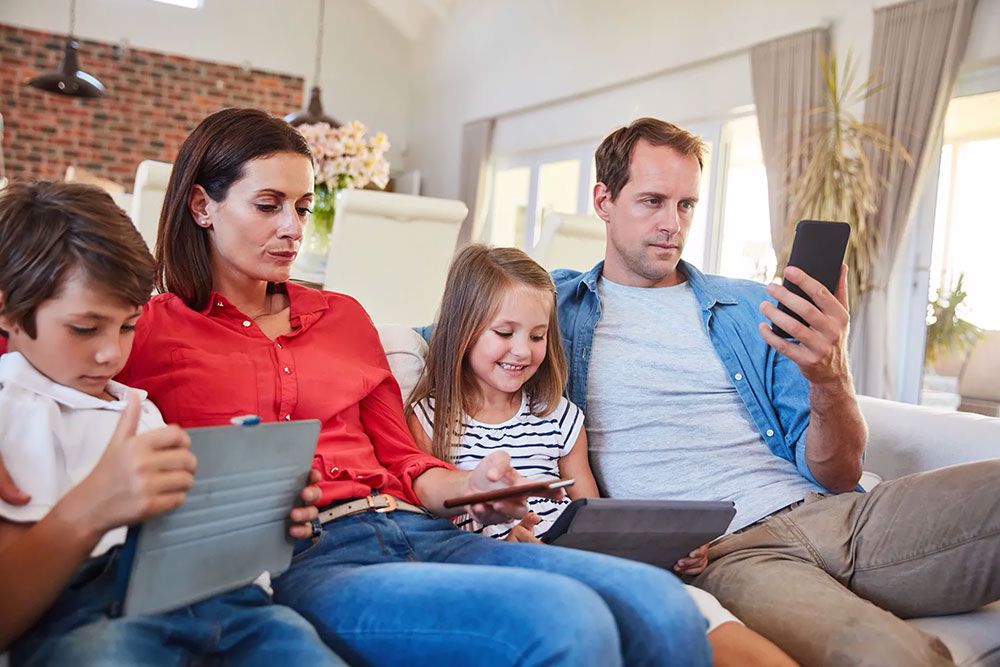 It's Time To Consider Enrolling Your Child In Our Summer Camp!
Keeping kids entertained in the summer is no easy task, especially if you're busy with work and other duties that demand your attention. Luckily, our summer camp offers a concrete solution as kids receive the support, mental stimulation, and social interaction they need to flourish.
Perhaps even more essential is the role our summer camp plays in bringing kids together. These activities force children to put down the electronics and remain in the present as they focus on the experience and connect with other children. This connection often leads to lasting friendships and powerful memories as they bond over the activities and enjoy their time together. These are the experiences that often impact kids the most as they grow older.
Do Your Summers Look Something Like This…

Scheduling Stress
You relentlessly battle late coworkers, crazy road conditions, accidents, and unforgiving afternoon traffic to make it home from work early and ensure your child is supervised.

No Activities
You have a sitter, family member, or neighbor watch the kids but can't help but wonder what the kids are up to all summer.

Difficult Plans
You're constantly rearranging or canceling plans with friends as getting the kids out of the house has become a challenge.

Too Sedentary
You're forced to watch helplessly as your kid stays inside, plops down on the couch, and becomes glued to the TV, phone, or computer regardless of the beautiful weather outside.

Camp Blues
You've tried conventional summer camps before but didn't like the fact that it was too far, kids were gone for too long, or were worried that the camp wasn't offering anything impactful or educational to your child.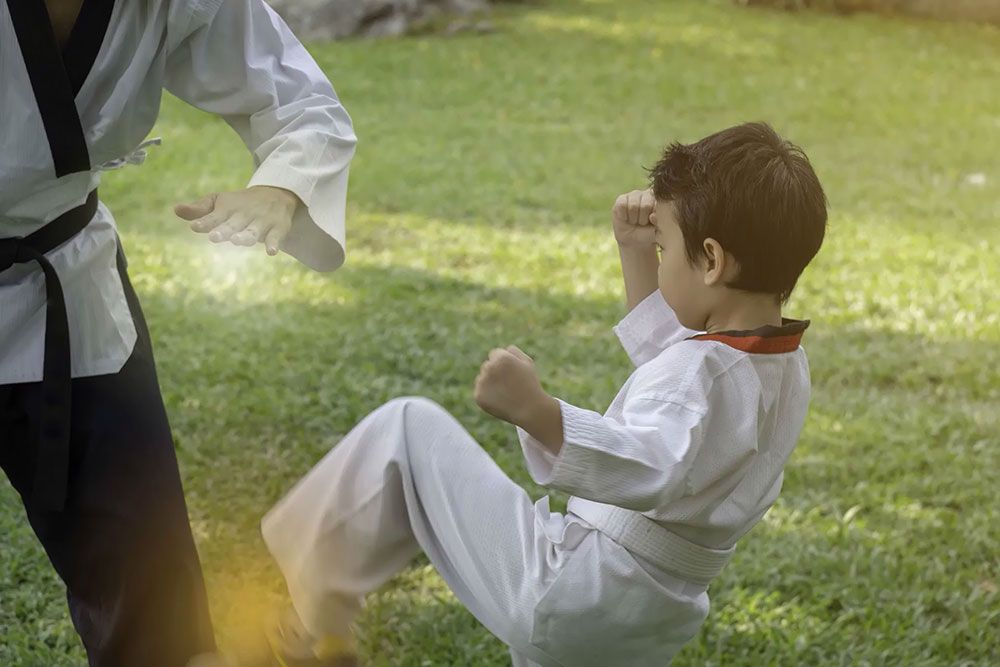 Let's Get Children Off The Couch And Out Of The House
In today's digital society, it's nearly impossible to convince kids to put down their favorite devices and enjoy the world around them.
Although understanding technology is essential in our modern, connected society, cell phone addiction is a real danger to children and can get in the way of healthy social interaction and communication skills.
With statistics showing that 86% of people will interrupt a conversation to check their phone, something must be done to ensure better communication habits for our children.
We prioritize the value of enjoying the present moment and design our classes to encourage social interaction, teamwork, and the importance of having FUN with friends.
More Than Just Martial Arts
Discover the Transformative Powers Martial Arts has on Children!

Develops Character and Humanity
We all want our kids to change the world and make an impact on future generations. Through a focus on aiming for and achieving goals, we teach kids to shoot for the stars and incrementally chase goals step-by-step. All while instilling values such as love, empathy, respect, humility, and discipline.

Encourages Teamwork and Socialization
Nothing unites kids better than sharing a common interest. We teach children to work together to better each other and accomplish great things. Bullying in any form is frowned upon and each child learns to embrace each other's differences.

Rewards Unbelievable Listening Skills
By learning the value of respect and humility, kids learn to listen attentively to their elders. It starts with an eagerness to learn all the cool moves and "tricks" they see their friends doing but once they realize what they can accomplish by simply paying attention, they begin listening in other areas of life as well.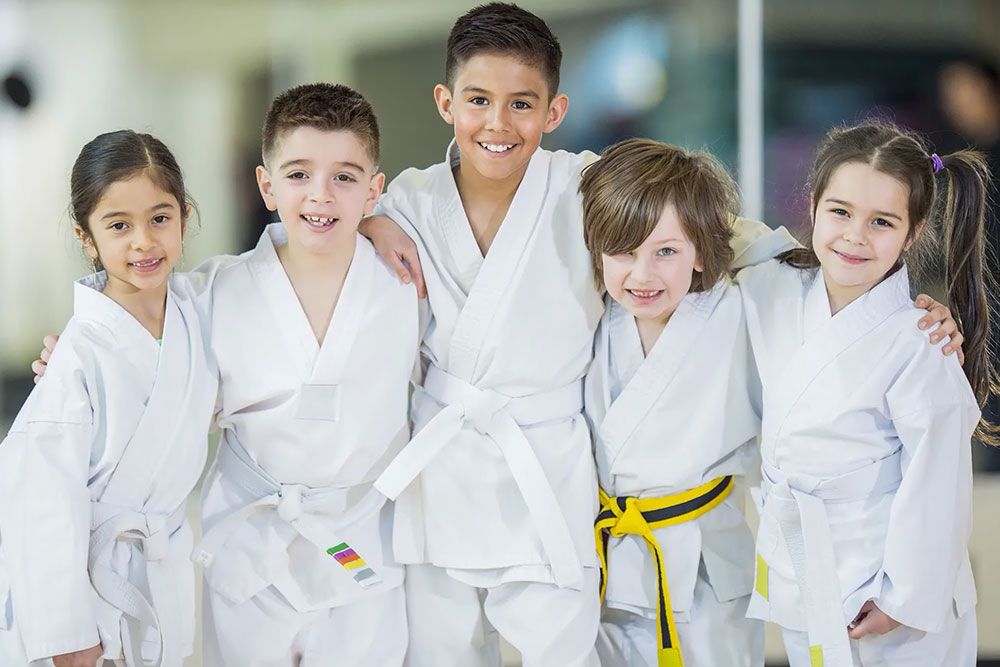 A Safe Productive Environment Your Kid Will Enjoy
Rather than spending summers bored at home searching for something to do around the house, feel confident that your kid is enjoying an entertaining, valuable activity that will prepare them for life.
We often hear that our program is the highlight of many of our campers' year as we instill important life skills while kids play and bond with each other. With fun games, activities, and exercises that force kids to interact with each other, you can rest assured that your child will enjoy their experience.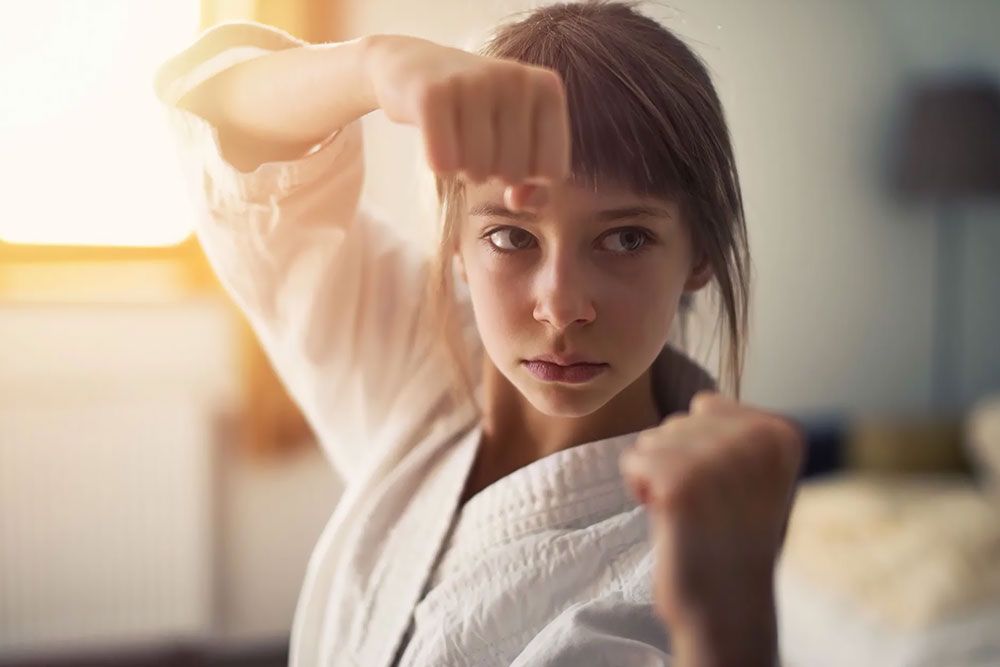 Not Just A Camp: It's A Personal Development Journey
Most summer camps offer a safe place to leave children along with some fun games and activities but don't really offer much beyond that. With Martial Arts, however, it's not just a camp… It's the start of a personal development journey.
Your child isn't just benefiting from a fun physical activity, they're also building skills such as focus, discipline, respect, empathy, and confidence through their training. These skills lead to improvements in behavior, character, academic performance, and so much more. Feel confident knowing your child will end the summer and start the school year mentally ready, socially active, and prepared to succeed.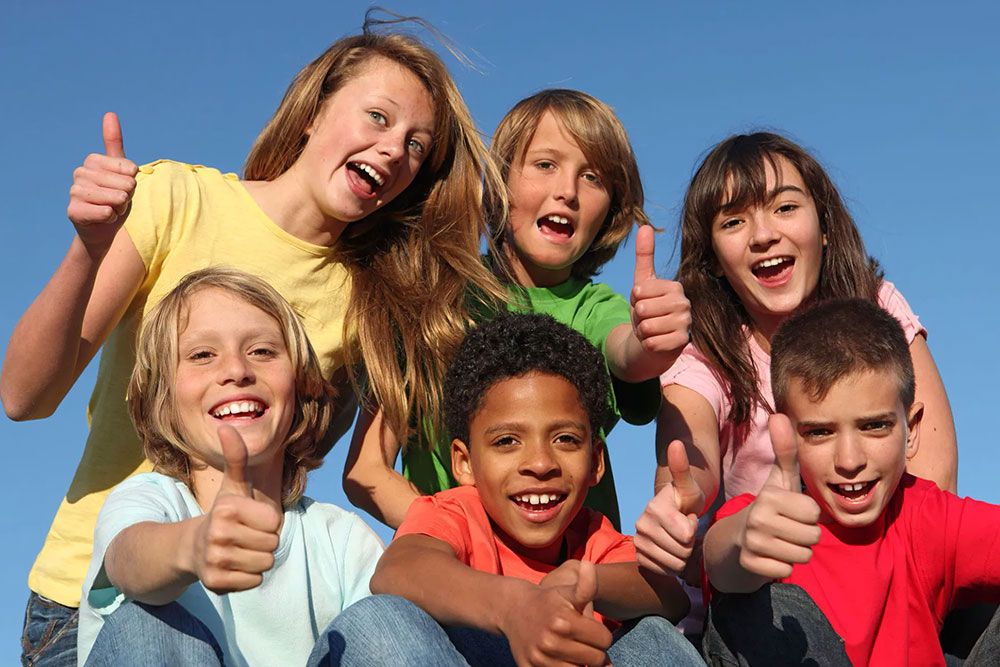 Highlights Of The Program
Fun, games, and activities for everyone involved
Martial arts training sessions
Social interaction and bonding with other kids
Valuable life lessons in topics like respect, discipline, honor, and more
What Our Happy Students Say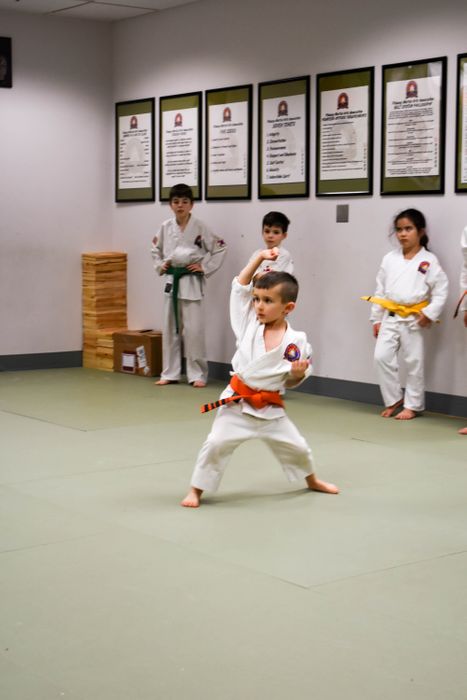 "RMAI works with families in any situation to help them. They teach karate and the related life skills with kindness and professionalism. I would recommend them to anyone."
- Brian Grace-Duff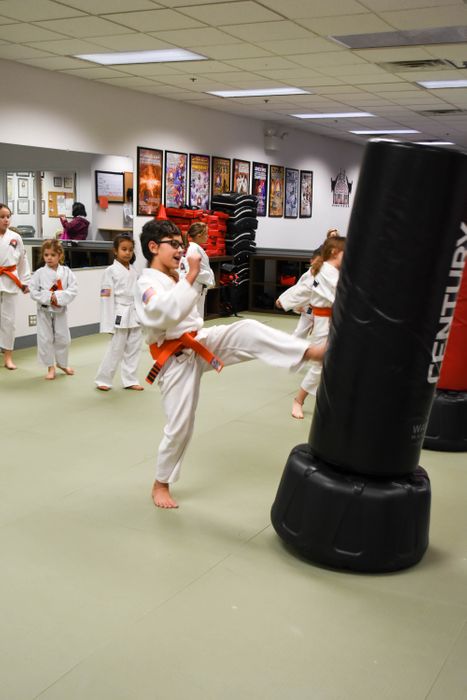 "Master Celona is a phenomenal instructor. He is great with kids and really makes training fun."
- Gary Quillen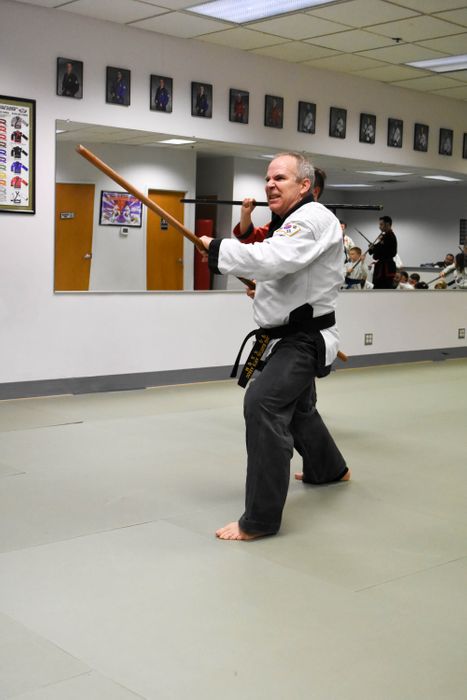 "Master Celona is really great with all ages of students. My Grandson is 6 and I saw a big change in him. He is more focused, enjoys learning new moves and interacting with all the other children. Great idea for children and adults."
- Janine Davis
FAQs
I want my child to have a fun summer they will remember for a lifetime. Is this the camp for that?
Of course. Our top goal is to create a positive, impactful experience for every camper that walks through our doors. Through games, activities, socialization, and fun yet educational experiences, we provide kids with an opportunity to have summer vacations they will remember. We take great pride in the fact that powerful friendships and bonds have started here at summer camp and will do everything we can to ensure your child enjoys their summer here with us.
What Hours Will My Kid Be In The Program?
Our summer camp hours vary every year. When we get in touch with you we'll cover our current times.
Is Martial Arts Dangerous?
Although any sport or activity has some risk involved, our team of certified instructors follow safety protocols to ensure a safe and supportive environment for our students. In fact, unlike sports which has one adult supervising an entire team, we have multiple instructors monitoring a room at all times making sure everything runs smoothly. We understand that each student has their own unique limits and we encourage rest and feedback during exercise.
Does my child need to be athletic to benefit from martial arts camp?
Our classes are tailored towards accommodating students regardless of their weight, age, abilities, or energy levels. Astonishingly, many of our students have tried sports and other athletic activities only to realize it's not for them. Martial arts is often a sanctuary in these cases as competition is eliminated and each student only attempts what they feel comfortable doing.
How can Summer Camp prepare my child for life?
Other than providing kids with a fun and safe environment to socialize and stay active, our camp also instills essential life skills like discipline, honor, confidence, and respect. Integrating Martial Arts makes our camp an extremely rewarding program and often causes a major shift in maturity.
What if my child doesn't like the program?
With any new activity, it's common to face some resistance in the beginning. We make great efforts to keep summer camp fun and lighthearted but at the end of the day a new environment can cause some resistance. We encourage parents to give us a few days to get through to new campers but in the event your child isn't happy we guarantee to work with you on finding a fair and complete solution.
Get Started Today
ACCESS OUR SCHEDULE & OUR EXCLUSIVE WEB SPECIALS!
• Take the first step towards getting the results you want!
• Start learning real martial arts techniques!
• Join us for a no-obligation trial and we'll assess your needs & goals!